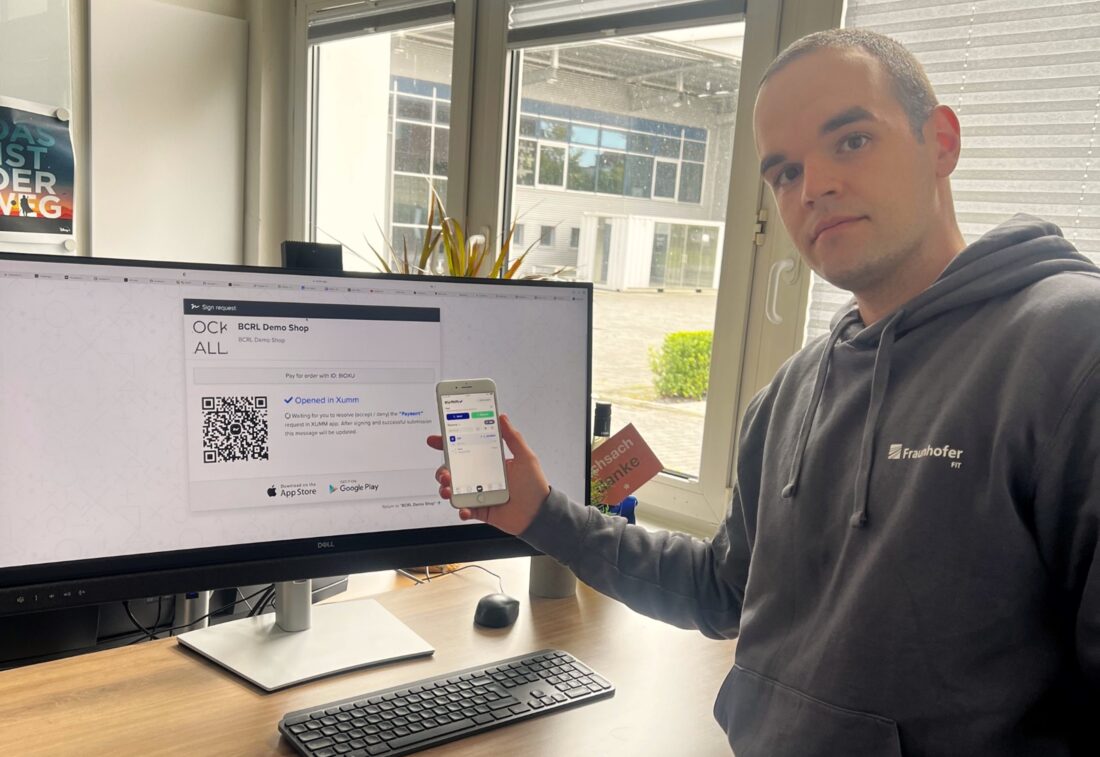 Web3 gem: XUMM
Bridge the gap between Web3 and the real world with XUMM, a payment app for the cryptocurrency Ripple – in e-commerce, retail or gastronomy.
Funded by the state and federal government, it is the task of the Blockchain Reallabor Demo Online Shop to demonstrate blockchain in a tangible way. In this shop, we therefore show you how simple, secure and advantageous payment with blockchain or Web3 solutions can be in the area of e-commerce, retail and gastronomy. To this end, the Blockchain Reallabor Demo Shop supports Ripple payments (XRP) via the XUMM payment gateway for Ecwid. While cash is still the most popular means of payment in Germany, our online shop serves as an impressive digitalisation example of how easily Web3 can interact with the real world to enable faster and more secure transactions.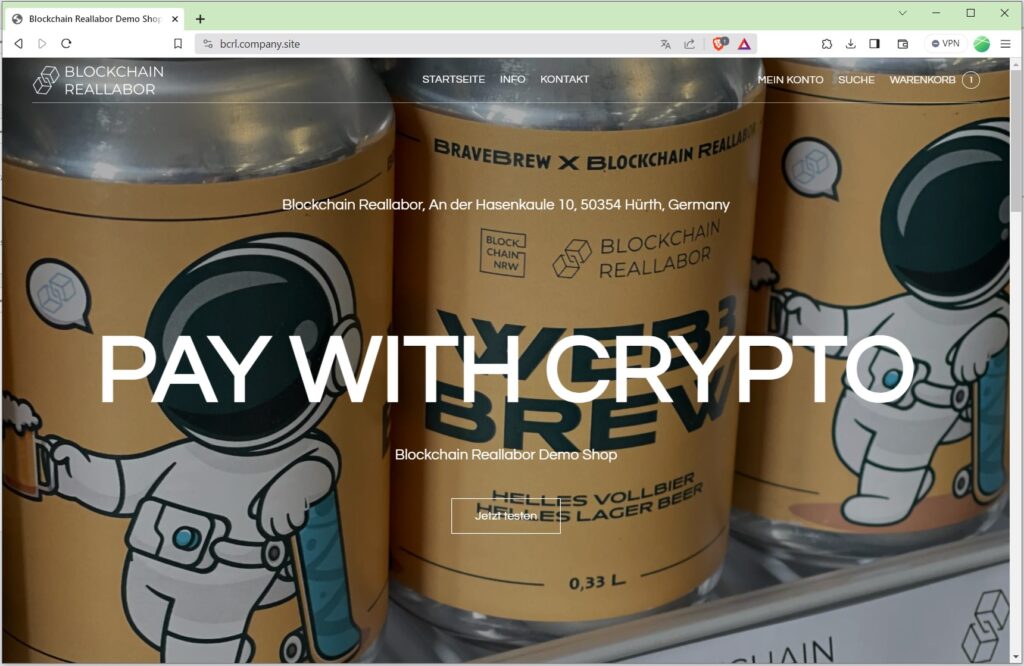 What are the advantages of a Web3 gateway? 
What are the advantages of a Web3 gateway?
Especially in international e-commerce or in cities with high international tourism in the retail or gastronomy segment, crypto-based payment gateways can save time and money. While many FIAT providers charge additional payment fees for converting international currencies into the local currency or even refuse payments altogether, this fee is completely eliminated in the example above. The conversion of XRP into EUR is even free of charge. The payment is processed within 4-5 seconds. The previously known slow transaction speeds of the blockchain are passé and Web3 payment gateways can keep up with common payment providers. For e-commerce operators, retailers and restaurateurs of crypto-based payment gateways, there are also other advantages. Private payment providers of credit cards or online payment gateways sometimes charge high fees, as there is effectively no public online competition apart from cash as the only public means of payment. Web3 cryptocurrencies, however, do not belong to anyone and, as a publicly accessible payment instrument, are therefore not interested in high transaction margins, but only charge low transaction costs to maintain the network. Users can pass on this transaction cost advantage to their customers, e.g. by offering discounts on the transaction costs borne by the customer.
Interested? Experience Web3-Payment in Hürth! 
For those who want to see the value of this innovation in a real business scenario, we offer a hands-on demonstrator in the Blockchain Reallabor. This demonstrator serves as a "living lab" in which interested parties can experience the complete transaction process live and explore the possible applications in their own business field. In addition, we offer a secure productive implementation for retailers, restaurateurs or e-commerce platforms on request. With customised solutions tailored specifically to the needs and challenges of your business, we bridge the gap between the digital blockchain world and the real business world. This is an excellent opportunity to actively shape the transition to faster, safer and more cost-effective transactions while meeting the modern demands of the market.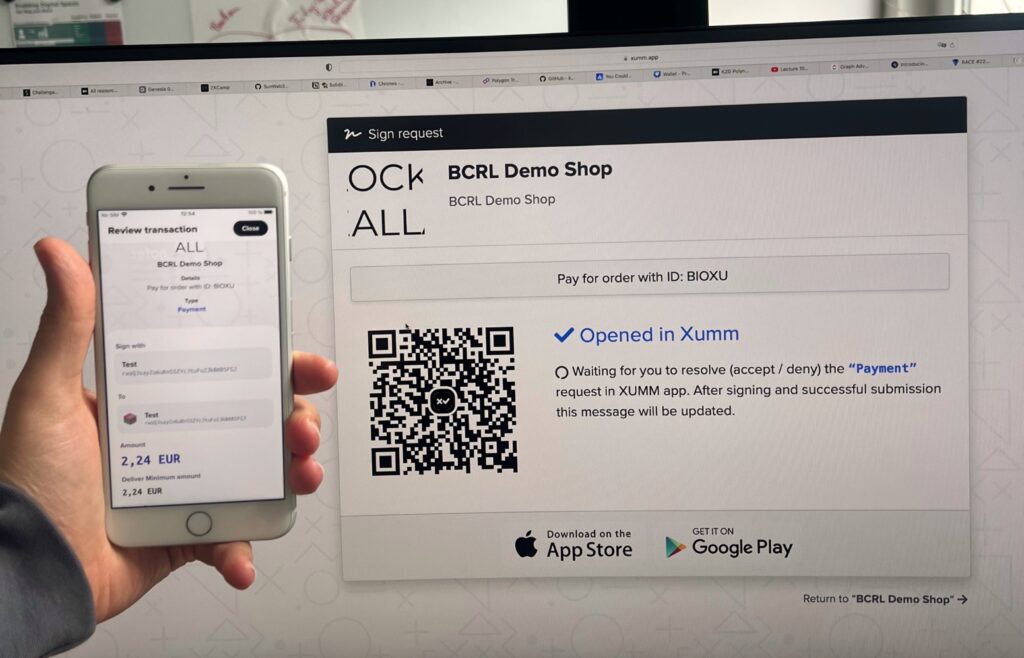 Do it yourself? This is how it works! 
1) Interested parties can download the XUMM smartphone app free of charge and easily from the app store of a smartphone manufacturer. The XUMM smartphone app is a digital wallet, but it should be compared less to a real wallet and more to a bank account. Like a bank account, setting up the app requires several steps that should be done carefully and thoughtfully. Since the XUMM smartphone app is not centrally managed by an intermediary, but by you alone, the comparison with the real wallet fits again after all: lose your wallet, lose your money – lose your smartphone, lose your XRP money too.
2) Via the XUMM smartphone app itself, they can then conveniently use a third-party provider to top up and buy their first Ripple. Please note that approx. 12 XRP are locked in the XUMM smartphone app as a deposit or security deposit. Once you have XRP in the XUMM smartphone app, you can receive and send payments worldwide in near real time without having to open an account with a bank.
3) You can find the XUMM gateway for Ecwid in the Ecwid app store. There you only need to open a paid store and install the XUMM Gateway for Ecwid. To connect the XUMM gateway for Ecwid with the XUMM smartphone app, an interface must be configured. Otherwise, the shop will not know which XUMM smartphone app to use. This is easily done via the XUMM developer portal. In this portal you will then receive special identifiers that you can store in the XUMM gateway for Ecwid.
4) Your shop and XUMM are already connected and live. The process takes about 30 minutes. If you want to familiarise yourself with the system, you will need more time.
Excursus: What is Ripple? 
Ripple (XRP) is a cryptocurrency. Unlike Bitcoin, Ripple is designed for fast and low-cost transactions, making it ideal for e-commerce/retail and hospitality applications. Ripple transactions are not only faster, but also significantly cheaper and offer an advantage over traditional payment methods, for example in international e-commerce. In addition, Ripple enables micropayments, which can be more difficult and expensive with traditional payment processors. 
Excursus: What is XUMM? 
XUMM is a non-custodial digital wallet for the XRP blockchain that is secure and easily accessible through features such as biometric authentication. XUMM gives users complete control over their own assets, further minimising security risk. XUMM allows multiple accounts to be managed for free, just like a normal bank account, but with fees. Transaction throughput and speed are remarkably high, with transactions being processed within 4 to 5 seconds.  
Excursus: What is Ecwid? 
The blockchain reallab demo online shop is based on Ecwid to cover a wide range of applications. Ecwid is suitable whenever a central merchandise management system and diverse integration options with other systems are sought. Ecwid supports XUMM, which makes it possible to integrate Ripple payments quickly and easily, thus connecting the crypto world with traditional online shopping.